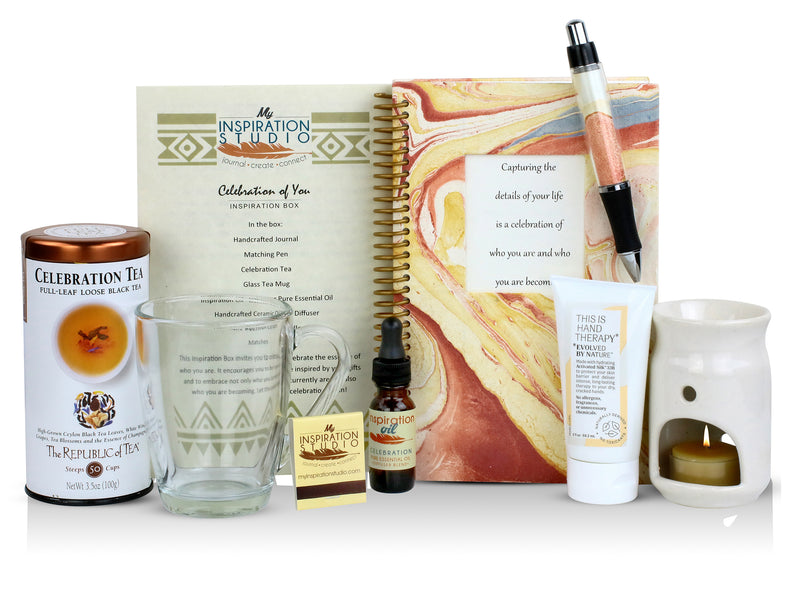 We spend our lives focusing on enhancing and improving ourselves. We make strategies and plans for growth and change. We focus on our weaknesses and shortcomings and seek ways to overcome them. What we often fail to understand is that celebrating who we are is a critical component of personal development. Our ability to shine the light on our strengths, our accomplishments, as well as the simplest parts of our being, is foundational to affirming ourselves and moving forward on our journey. When we feel affirmed and celebrated we have confidence, we have courage, and we have clarity. 
The Celebration of Me experience supports you in your celebratory journey. Each included item was chosen to engage your senses and create an immersive journaling experience. Included in this experience are hand reflexology videos and breathing exercises to assist you with deepening your self-connection. The more you focus on you, the more you discover who you are. This knowledge helps you to show up as the person that you truly desire to be. 
Let's lift ourselves up and celebrate our gains. The "win" is within us and oh how inspiring it is.
Items in this box have been hand-selected to encourage your journaling experience. 
EXPLORE THE EXPERIENCE
Handcrafted Journal::
Pages: 75 total. Your choice of lined or unlined, acid-free, archival safe, and 100% PCW recycled.

Binding: Spiral design for functional flat lay writing. Made from recyclable plastic.

Size: 6" x 8.5"

Cover: 100% recycled fiberboard, 100% tree-free recycled cotton rag handmade paper.
Cover Quote: "Capturing the details of your life is a celebration of who you are and who you are becoming." 
Matching Ballpoint Pen::
Celebration Tea::
Full Leaf Tea from The Republic of Tea

™

Ceylon Black Tea with White Wine Grapes, Tea Blossoms, and the Essence of Champagne 
Glass Tea Mug::
Tempered Glass, Cool Touch Handle

10.75 ounces
Tea Bags and spoon (not shown)::
Unbleached, Biodegradable, 

Natural wood pulp filter paper bag with drawstring

Wooden scoop spoon
Hand Cream::

Beessential™


(different than shown)

Made with Cupuaçu Butter and Honey that absorbs quickly in the skin promoting deep and long-lasting hydration

Unscented, Original Honey
"Celebration" Essential Oil::  
100% pure essential oil.

A unison of Coriander, Lemon, Pink Grapefruit, Mandarin Red, and Ylang Ylang pure essential oils blended to help add vitality to your intentions and accomplishments, to increase your enthusiasm for your activities and to expand your joyfulness for simply being.

External use only.
Diffuser and Candle::
Handcrafted Ceramic Oil Diffuser.

Pure beeswax tealight candle included
Inspiration Guide::
Journaling Prompts

Link to Breathing Exercise Audio

Link to Hand Reflexology Video
Gifting? A handwritten note can be included. Please indicate your message in the area provided.
Expand +