Birthday Box!
Your Gifted & Guided Birthday Experience includes the "Birthday Box" which is full of all the goodies that you need for an immersive journaling experience. The Birthday Box gives you the tools to create your own joyful and reflective journaling experience separate from the live virtual event. Celebrating another journey around the sun and all the journeys before, is significant in honoring yourself and your personal growth.
I carefully curated this experience to include items that will engage your senses and create an immersive journaling experience that stirs your soul, illuminates your uniqueness and adds to your self-care practice for the year ahead.
In addition to journaling prompts and exercises, I have included hand reflexology videos and breathing techniques to assist you with deepening your self-connection and enhancing your self-care. 
Happy Birthday!
Celebrate the gift that you are!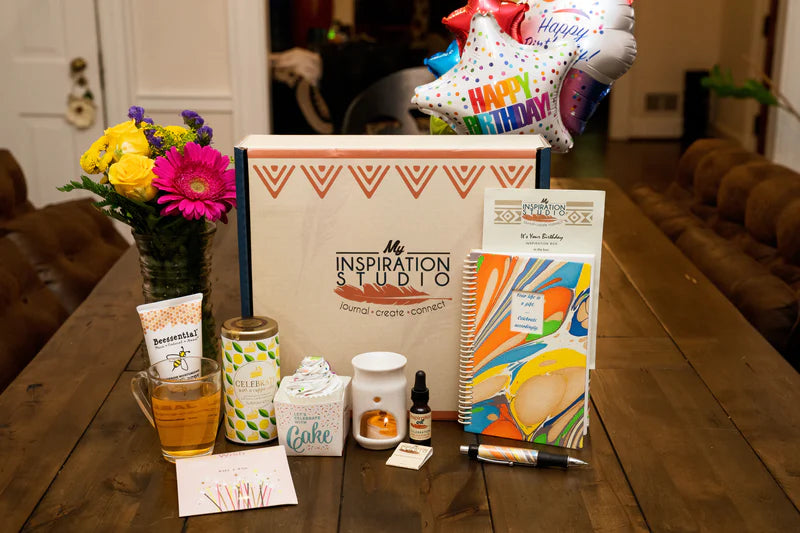 What's Inside?

EXPLORE THE EXPERIENCE
Handcrafted Journal::
Pages: 75 total. Your choice of lined or unlined, acid-free, archival safe, and 100% PCW recycled.
Binding: Spiral design for functional flat lay writing. Made from recyclable plastic.
Size: 6" x 8.5"
Cover: 100% recycled fiberboard, 100% tree-free recycled cotton rag handmade paper.
Cover Quote: "Your life is a gift. Celebrate accordingly." 
Matching Ballpoint Pen::
Refillable
Celebrate With A Cuppa Cake Tea::

Herbal Blend from The Republic of Tea™
Green rooibos, apple, lemongrass and natural lemon, vanilla and coconut flavors 
Glass Tea Mug::
Tempered Glass, Cool Touch Handle
10.75 ounces
Hand Cream::

Beessential™
(different than shown)

Made with Cupuaçu Butter and Honey that absorbs quickly in the skin promoting deep and long-lasting hydration
Unscented, Original Honey
"Celebration" Essential Oil::  
100% pure essential oil.
A unison
of Coriander, Lemon, Pink Grapefruit, Mandarin Red, and Ylang Ylang pure
essential oils blended to help add vitality to your intentions and
accomplishments, to increase your enthusiasm for your activities and to
expand your joyfulness for simply being.
External use only.
Diffuser and Candle::
Handcrafted Ceramic Oil Diffuser
Pure beeswax tealight candle included
InstaCake Celebration Cake Kit::
Everything you need to make a personal size celebratory cake
Flying Wish Paper::
A seemingly magical activity to release your wishes into the universe
Inspiration Guide::
Journaling Prompts
Link to Breathing Exercise Audio
Link to Hand Reflexology Video